NIF UK has quickly established itself as a reputable company because of its high quality, innovation and determination to deliver growth to all its partner distributors. We continue to have an ambitious strategic medium and long term strategic business growth plans.

We have our warehousing & distribution centre and head office in Felixstowe. We are an ISO 9001:2015 approved company and deliver results though our continuous improvement plan.
We are committed to offer quality products at very competitive rates with a focus on outstanding customer service. In line with our commitment towards continuous improvement, we continually update and introduce new products to our customers, including the development of specific product lines to meet the most exacting of our customer demands. This commitment extends to all aspects of our service standards.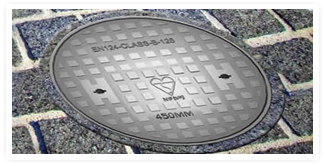 We achieve this through our commitment towards continuous improvement and by working in partnership with our customers to ensure mutual and sustainable long - term growth.
We would stress that being a foundry group we are able to manufacture the most demanding bespoke requirements and can offer solutions to any of your building material component requirements in STEEL, CAST, COMPOSITES ( DMC OR SMC ) and Plastics.
We offer a comprehensive range of Grey and Ductile Iron Kite marked and non - kite marked manholes and gratings, linear drainage gratings and bespoke Steel access covers.